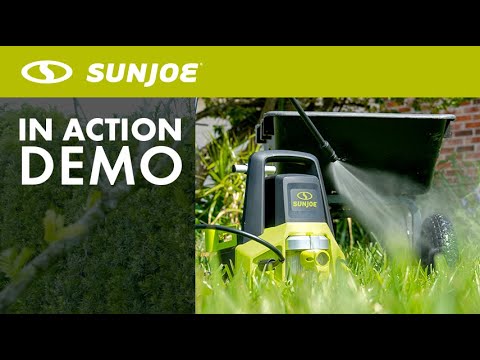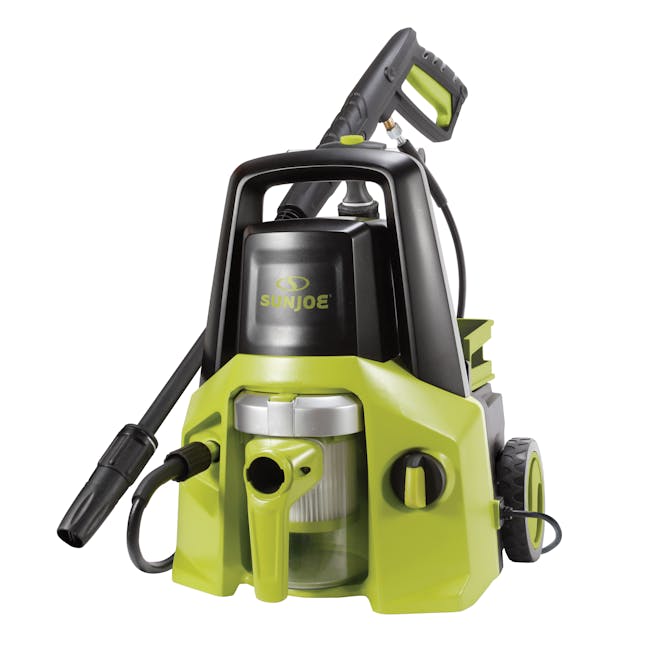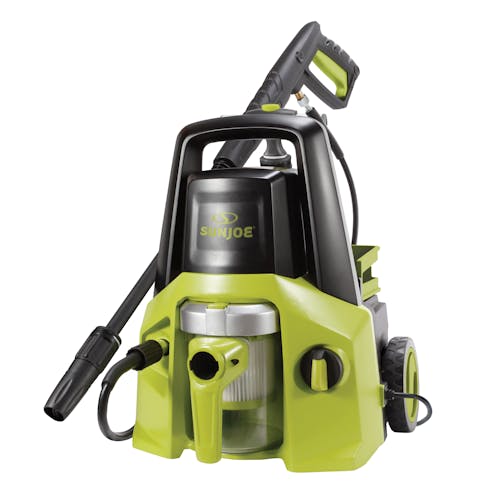 Sun Joe SPX7001E 2-in-1 Electric Pressure Washer + Vacuum | Built in Wet/Dry Vacuum System
THE ULTIMATE DIRT DECIMATING DUAL DYNAMO! Take on multiple messes, indoors and outdoors, with the SPX7001E 2-in-1 Electric Pressure Washer + Wet/Dry Vac from Sun Joe®. SPX7001E Combines the power of a pressure washer with a high-performance vacuum, allowing you to clean your garden, workshop, home, and car without switching tools! The ultra-compact design weighs only 17 lbs, and maneuvers + stores with ease. Work smarter not harder with the 2-in-1 design, delivering maximum power and versatility while saving you precious space in your garage or shed.
YOU NAME IT. YOU AIM IT. GRIME IS GONE®. There's no need for two tools when one does it all. The eco-friendly pressure washer 13-amp motor delivers a maximum of 1500 PSI to blast through thick layers of grime, while the 1.1 GPM flow rate washes it away. Tailor your spray with the adjustable spray wand and switch from pinpoint jet to powerful fan spray with just a twist! And the included 10 fl oz foam cannon attaches to your pressure washer lance, aerating as it sprays to generate a viscous layer of foam that coats the surface and breaks down stubborn grime.
SWITCH IT UP TO PICK UP WET OR DRY MESSES! When there's a spill or mess to clean, don't switch tools — just flick a switch and you'll have a super suction wet/dry vacuum that's perfect for spills + messes around the house, in the car, laundry room, basement, and more! SPX7001E's 5.7-amp wet/dry vacuum motor generates up to 49.4 cubic feet per minute of air flow, ensuring a quick and easy pick-up. Whether it's wet or dry, you can tap into SUN JOE's suite of handy attachments to suit any cleaning task. And when the job is done, simply remove the 0.4 gallon collection tank to quickly and cleanly dispose of dirt, debris and liquid.
Features
Ideal for taking on indoor and outdoor cleaning tasks - patio, porch, deck, garage, laundry room, pantry, car, boat, and more!
Powerful 13-amp motor generates a maximum of 1500 PSI and 1.1GPM
5.7-amp wet/dry vacuum motor generates up to 49.4 cubic ft of air flow
Included 10 fl oz foam cannon to give your cleaning blast a boost
Includes a 20-ft high pressure hose and 35-ft power cord with GFCI protection
Adjustable twist nozzle allows you to easily customize your spray
For wet or dry-cleaning applications
6-piece accessory kit includes adjustable spray wand, foam cannon, all-purpose vac nozzle, crevice vac nozzle, dusting brush, and 20-ft high pressure hose
Removable .4-gallon dust tank
Lightweight at just 17 lbs