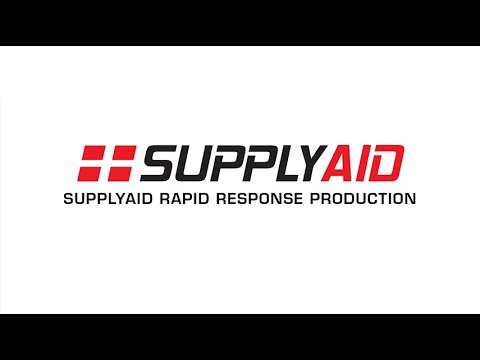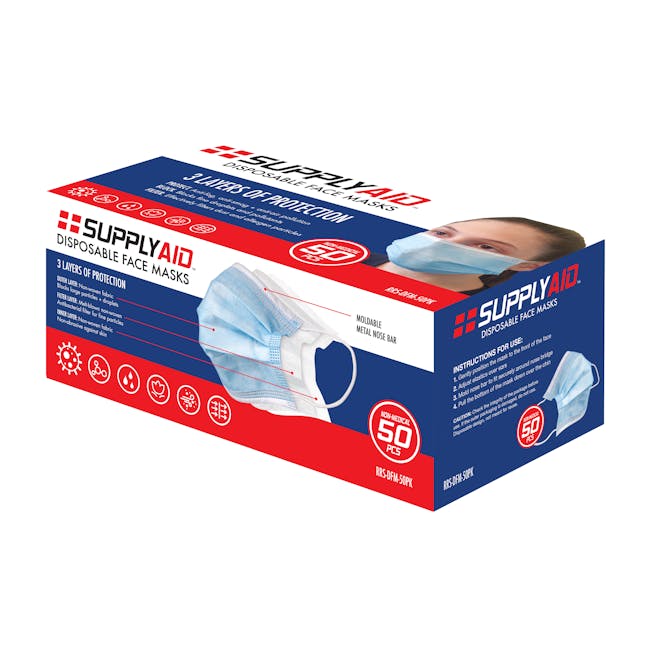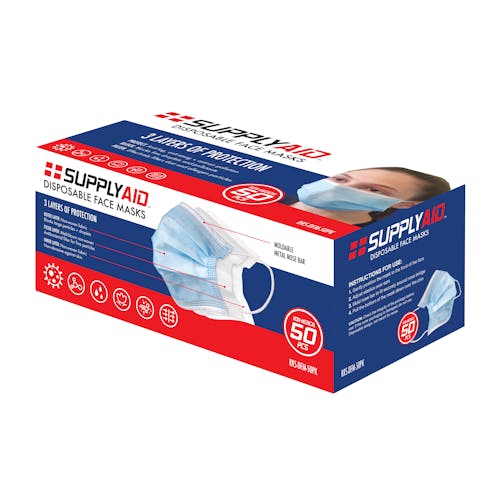 SupplyAID RRS-DFM-50PK Disposable Face Masks | 50 Count | 3-Layer
FINAL SALE: NO RETURNS OR EXCHANGES; NOT ELIGIBLE FOR WARRANTY COVERAGE
Protect yourself from airborne dust, pollen and other allergens with 3 layers of protection! Disposable Face Masks from SupplyAID® protect against fog, smog, air pollution, fine dust + droplets and other airborne particles. The disposable design is perfect for all-day wear. The 3-layer mask features a non-abrasive inner layer and outer layer made from breathable, non-woven fabric, and an antibacterial filter middle layer. The elastics sit comfortably on the ears, and the moldable nose piece ensures a secure fit on the face to prevent shifting during movement. Ideal for daily use at home and at work, travel, or trips to the supermarket and gym, these masks help prevent the spread of germs and protect against airborne dust and allergens. Count on SupplyAID and the SupplyAID family of products: The right health + wellness essentials, right away.
Instructions for use:
1.Gently position the mask to the front of the face
2.Adjust elastics over ears
3.Mold nose piece to fit securely around nose bridge
4. Pull the bottom of the mask down over the chin
WARNING: This mask is not intended as a replacement for gas masks and medical masks. Not suitable for toxic environments. Not for use of breathing is impeded or unsteady, or during sleep. Masks are disposable and cannot be washed or reused.
Features
50-PACK: of disposable face masks
3-PLY DESIGN: protects against airborne allergens, pollen, and large droplets
FITS SECURELY OVER FACE: to prevent shifting during movement
Store in a dry and ventilated location 23ºF – 122ºF (-5ºC – 50ºC, relative humidity <80%).
Non-abrasive against skin