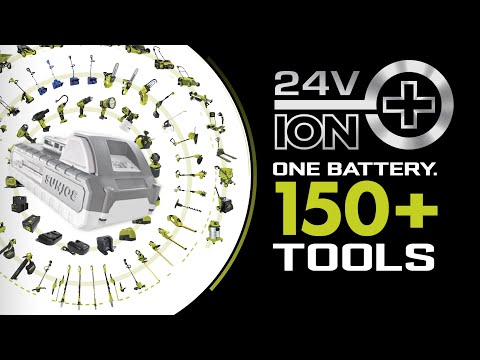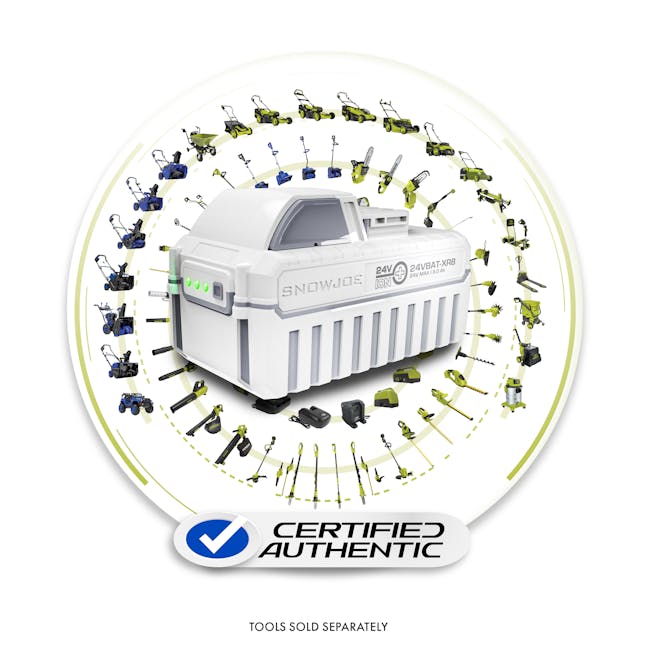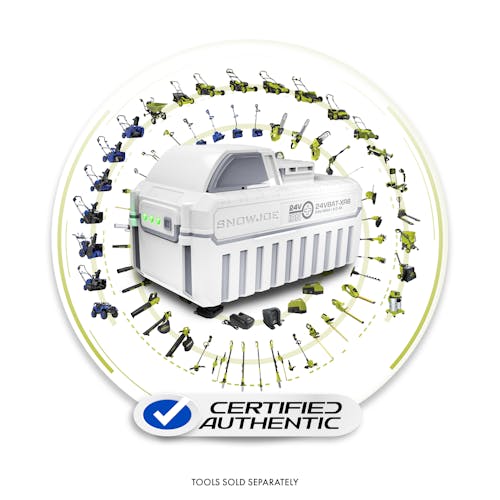 Snow Joe CERTIFIED AUTHENTIC IONMAX 24-Volt* 8.0-Ah Lithium-ION Battery W/ USB Charging Port | For JOE Brands (Sun Joe, Auto Joe, Snow Joe, Power Joe) IONMAX Devices | Battery Management System | 3-Stage LED Display
*Initial no-load voltage, at full charge, peaks at 24V; nominal voltage with typical load is 21.6V
Power To Go. Power your cordless tools the eco-friendly way with the 24-volt* IONMAX 24VBAT-XR8 EcoSharp® 8.0 Amp Hour lithium-ion battery. Compatible with 100+ cordless tools*, this high-performance battery features the latest in lithium-ion technology, with no fade power — for a continuous discharge rate — and no memory effect — so you can charge up whenever you want, without having to drain the battery.
We know that life can get rough, so we made XR8 tougher than ever. The shock-resistant design is built for maximum durability, with a rugged rubberized casing designed to absorb, dampen, distribute and resist external battery trauma. And with zero carbon emissions, IONMAX XR8 lets you breathe easier without all of the noise, fuss, and noxious fumes. Exclusive EcoSharp Power Management continuously optimizes the individual internal batteries to maximize power flow and performance, adjusting to meet your most challenging — and changing — work conditions. And smart features like the lighted fuel gauge, and onboard USB-C port (perfect for charging phones and personal electronics), make XR8 a cut above the rest.
Get Equipped® with IONMAX and mow, throw, blow, saw, spray, wash, drill, fill, till, hedge, edge...wherever the work takes you. 24V* IONMAX System: Power To Go.
Download Manuals
Features
CERTIFIED AUTHENTIC: Official Snow Joe + Sun Joe battery with valid markings of authenticity. Use of non-authentic accessories with your Snow Joe + Sun Joe tool will void your tool's warranty.
24V* EXCLUSIVE ECOSHARP® LITHIUM-ION TECHNOLOGY: High capacity cells with no-fade power, ensuring maximum job performance
NO MEMORY EFFECT: Enables you to charge whenever you want without having to drain the battery or wait for full charge before use
CORD-FREE OPERATION: No need for gas, oil, tune-ups, pull-cords, or tangled extension cords!
ECO-FRIENDLY: Produces zero emissions, contributing to cleaner air
RELIABLE PERFORMANCE: 8.0 Ah (192 Wh) performance
FOR USE WITH ALL SNOW JOE® AND SUN JOE® CORDLESS 24V* IONMAX MODELS: Broad compatibility with the range of Snow Joe and Sun Joe products
ETL APPROVED; 2 YEAR WARRANTY: ETL approved for quality and safety, with the added assurance of a 2-year warranty
BATTERY ONLY: Please note, the charger is NOT included
* NOT COMPATIBLE WITH: 24V-X2-SB15 (Series), 24V-X2-SB18 (Series), 24V-X2-20SB (Series), 24V-X2-SB21 (Series), 24V-X2-21LM (Series), 24V-X2-PW1200 (Series), 24V-X2-TLR14 (Series), 24V-WDV6000 (Series), 24V-PSW25 (Series), 24V-PP350-LTE (Series), 24V-XFP5-LTE (Series), 24V-MSTFAN-LTE, WA24C-LTE